Shuffle's Product Journey A-Z
Unpacking Shuffle — how the newest in podcast discovery & social plans to make waves in the age of shortening attention spans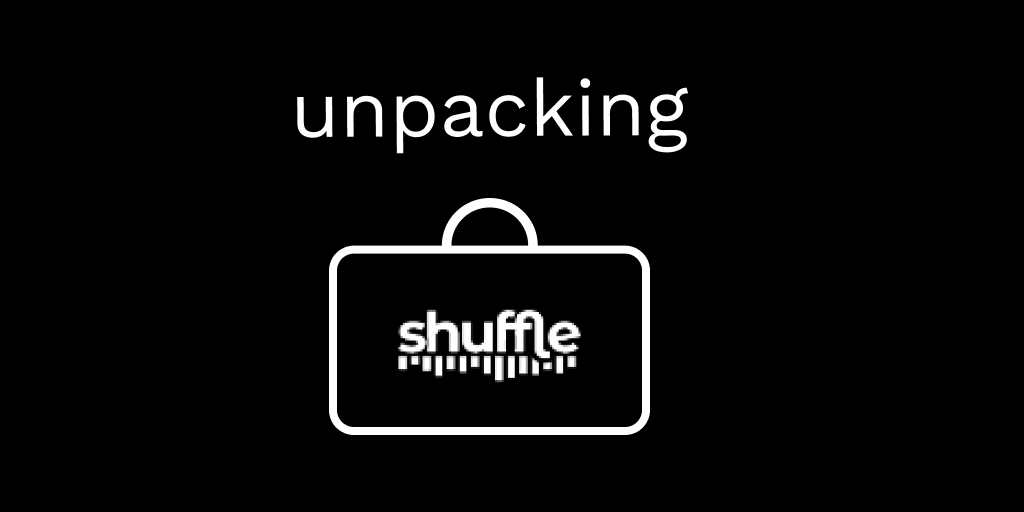 When did you last hear of a new podcast? Oh, this morning? Cool. 
When was the last time you listened to a podcast, any podcast? Last week? Last year? Alright, I'll take it.
Now, when was the last time you listened to a new podcast? Oh, you don't remember? Good look.
You see, the reason you likely don't remember the last time you listened to a new podcast is because people don't regularly listen to new podcasts often or easily. The solution to the podcast discovery problem that has long plagued us proves elusive; it's one no single company or product has yet gotten a handle on.
It's a problem for both creators and consumers. Creators want their content discovered and engaged with. Consumers want to be presented with content they will enjoy engaging with. However, current search tools, personalizations and curation methods still don't solve for the time issue — we don't have all day every day to be listening to podcasts, let alone new ones, to identify our favorites. One of the biggest issues podcasts face as a medium is their long-form nature makes them extremely difficult to browse, share, or discover.
Enter Shuffle — a podcast discovery app and community that opens users to a Tiktok-like discovery feed with short clips of the best podcast moments, created by other users.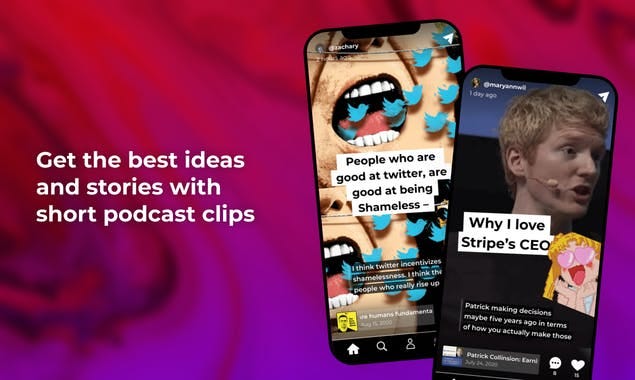 Shuffle was born from the need to be able to share and discover the ideas and stories within podcasts more easily — to make the format more digestible and social. As we continue to transition into a world where audio interfaces — think airpods, smart speakers, smart cars — gain popularity, it's important to think about the future of podcasts and audio discovery. 
For a glimpse at how Shuffle works, the UX, and how to make a clip, check this out —
Interested in a much more entertaining demo? Check out this TikTok made by Shuffle's team :)
Recently, I had the opportunity to sit down with Ada Yeo, one of Shuffle's two co-founders, and dive into some of the questions and hypotheses the early Shuffle team formulated when building their product. When exploring new products built by early-stage startups, it's especially interesting to me to understand how the product came to be as it stands. I enjoy getting the "behind the scenes tour", the "inside scoop" if you will. We explored how Shuffle was created, how it evolved, and why it matters in this age of increasingly shortened attention spans and 24/7 Air Pods usage.
Background
Ada Yeo left her job as a PM at Coinbase in 2019 and met her co-founder Gilbert Leung through a mutual friend. At the time, they both knew they were keen on building something new, something in the consumer/media space. They didn't know what. And so began the flurry of brainstorm/product-riffing/research sessions that often either started or ended with Ada sending Gilbert a slew of ideas and resources. Gilbert consumed them all and they'd discuss them — the blog posts, articles, videos, docs — everything except for the podcasts.
"Gilbert, do you not like podcasts? Why aren't you consuming them?"

"No, I'm a huge fan of podcasts!"

"Okay, then why aren't you listening to them? They're good!"

"Because there's literally like 20 hours of podcasts all backed up…"
That conversation was the kindling that lit the fire. People love podcasts; they're huge fans. What people don't love is the seemingly impossible barrier to entry to try out a new podcast.
Like…
You're telling me I have to sit and listen to a podcast you love for 45 minutes only to realize I didn't care for it by the end? 
And you have 5 different podcasts you want me to listen to? 
Yeah…thanks, but no thanks. 
What Shuffle is doing is turning these hour-long mp3 files into short one-minute snippets. Everyone has a minute to listen. Reducing the amount of time and attention people need to devote to considering a new podcast dramatically lowers the barrier of trial and consumption. Ada's recent tweet mentioned how Shuffle was the "magical podcast product" she wished she'd had years ago —
Allowing people to create their own audio clips of the best parts of their favorite podcasts, and then share those clips with friends, adds an element of interactivity while fostering connection. In addition to Gilbert and Ada, the current team at Shuffle includes ex-YouTube engineers and an ex-Facebook Video designer. They've been deliberate about building a team which appreciates new media, not one locked into the old paradigm of podcasts.
The following are a series of questions Shuffle co-founders sought to answer, how they went about doing so, and what they learned thereafter.
Question 1: Do people want to consume a feed of short podcast clips?
Hypothesis: People are interested in short-form audio content and would listen to it if it were presented to them in a curated feed.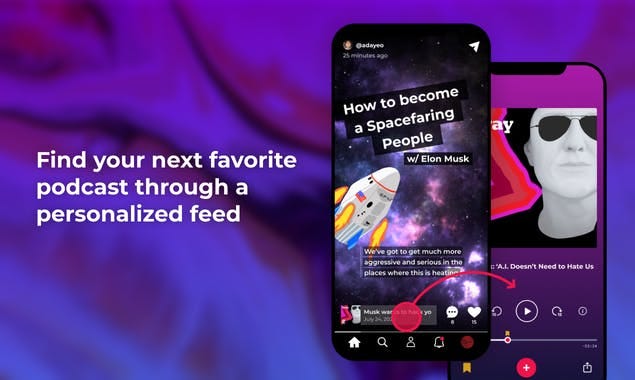 Methods: Create the most basic MVP possible to gauge interest: a series of mini audio clips added to a YouTube playlist and shared with potential users. Here's a sample of one of those early 60 second audio clips: Balaji Srinivasan on how tech is changing compulsory education:
Conclusions: Even at this primitive stage, they had a couple of users that would come back daily to listen to these curated bite-sized nuggets of gold. Ada and Gilbert had validated their first hypothesis: users enjoyed listening to short-form audio content and returned for more.
At this point in time, they had created all of the content themselves…this worked for this initial phase, but it wasn't sustainable.
Question 2: Will podcast fans want to create podcast clips to share with others?
Hypothesis: If Shuffle makes it fun and easy to share the best bits of podcasts, fans will create clips of the best moments and share with their friends over DM, Twitter, Instagram, etc.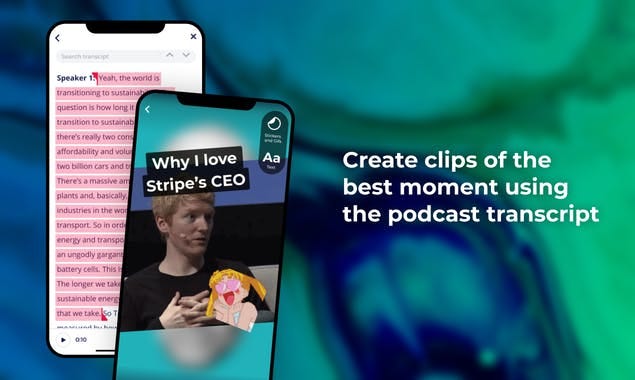 Methods: This was where a simple YouTube playlist wouldn't cut it. They had to build out a real MVP to prove a new behavior. The Shuffle founders tried several iterations here, and emerged with several key learnings. 
They learnt that users much preferred highlighting the transcript as a way to clip out the best moments, versus relying on an audio slider or timestamp system. The other important learning was that the act of creating an audio clip was tied very closely to podcast listening. Initially, the Shuffle founders had built a web application since it could be cross-platform and it would make clip creation for a new user much faster. However, they realized that mobile was a much more retentive and natural product entry point for this use case, and so they pivoted to building a mobile-first experience.
Conclusions: The Shuffle team iterated the clip creation experience and the clips themselves over the last four months. To date, over 1,500 Shuffle clips have been created by hundreds of podcast fans. The next step was to bridge the gap between content creation/consumption and content sharing.
One of the primary use cases seen by Shuffle users has been sharing their clips on platforms such as Twitter, where their audience may appreciate their curations. Below is a clip shared by KP of a Joe Rogan podcast interview of Naval Ravikant —
Questions 3 & 4: Do podcast fans want a community? Do they want to socialize around the clips?
Hypotheses: Allowing users to create profiles, follow one another and comment on clips will facilitate more engagement, social interaction and promote discovery of both podcasts and users (like "hey this guy curates really good clips of Naval" or "this girl always captures the funniest content").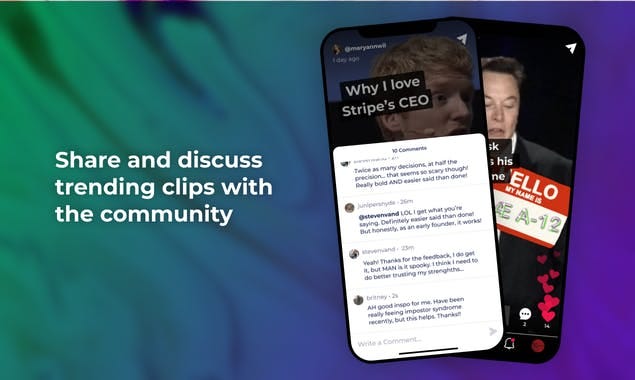 Methods: Testing out this hypothesis involved building out the social and community features (user profiles, following/followers, commenting on clips) necessary to promote more interaction and engagement organically. 
Conclusions: These features are relatively recent, but co-founders Ada and Gilbert were elated to see engagement and overall retention on the app soar with the addition of social features. Shuffle users were actively commenting, creating profiles and following one another on the platform. This correlated with a spike in the number of audio clips being created and shared.
Looking Forward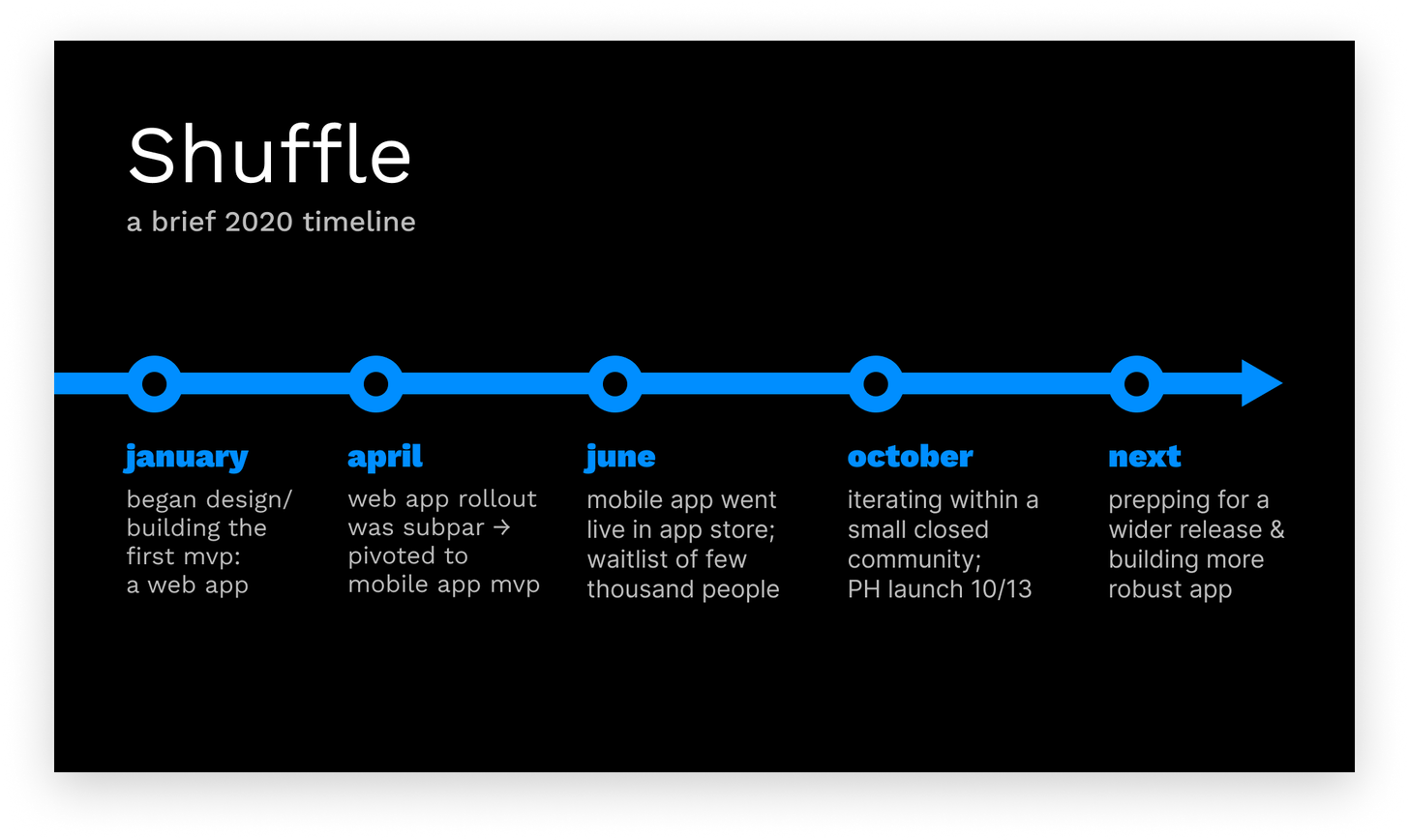 Since their App Store launch in June, the Shuffle team has expanded and continued to work on iterating upon its feature-set and user experience. They launched on Product Hunt on October 13th, hunted by one of Product Hunt's top hunters, Chris Messina, and are currently prepping for a wider release.
Their goal is to continue to see a rise in clip creation and hours of content consumed while simultaneously seeing higher rates of social engagement on-platform & link-sharing off-platform. In the future, the Shuffle team is thinking beyond simply short-form audio clips. Many of their users are listening to full podcasts that they've discovered on Shuffle.
Questions they're thinking about:
How can we optimize their user experience in that regard?

Is there a way we can make that specific experience social and fun?
Shuffle's vision is to be the discovery layer for podcasts and spoken audio, which will only continue to rise in popularity in coming years. Can podcasts really go viral? Maybe not before. But with Shuffle's podcast clips, they just may stand a chance.
If you just read this piece, I'd love to hear your thoughts — t

weet at me or shoot me a DM on Twitter

@youfoundanisha